For PlayStation All-Stars Battle Royale fans and fighting enthusiasts!
We're a mere 12 days away from PlayStation All-Stars Battle Royale coming out in the United States, so what better timing than now for some new treats come our way. This Paul Gale Network article is simply highlighting what was said in the subject title…so no need to try and decipher anything. Let's get started then!

PlayStation All-Stars Battle Royale PAL TV Spot Director's cut
This is the newest live action commercial for the game that shows a wide variety of different types of gamers, adopting the roll of their favorite characters. It's currently airing in Europe and is quite a bit different than the live action trailer we saw previously. Funny though. Your thoughts?

Hilarious PlayStation All-Stars Battle Royale poster Presented By: PaulGaleNetwork.com (Large)
Next up is this hilarious poster by NeoGAF user, "corporate cheerleader" that was originally sent to me on twitter. What it shows is a very comical look back on the history of this title, PGN's involvement, and the rest of the internet coming together, to try and decipher as much as possible in this past year.

PlayStation All-Stars Battle Royale Attract Trailer
Now this is something you're all bound to like, as it not only does a great job with its slick cgi visuals and fight choreography amongst characters, but shows Polygon Man at the end. Readers of this site have known for a while that Polygon Man was a part of the game…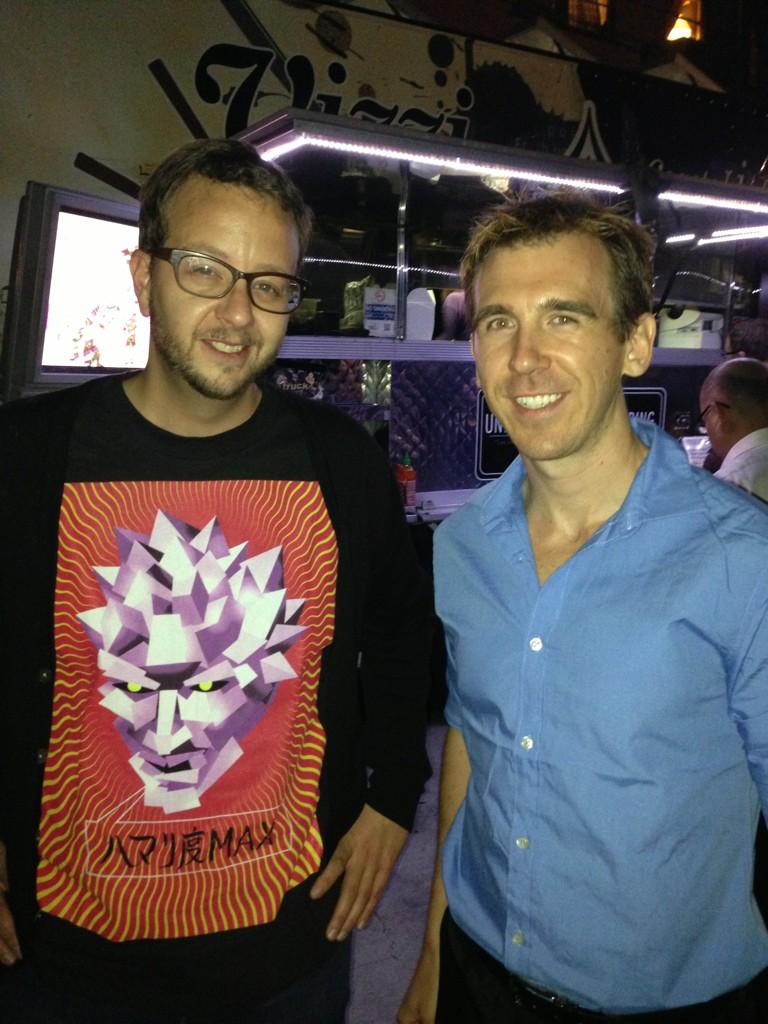 Seth Killian and Paul Gale
…but at least now you have a little better look at how he'll be portrayed. Maybe it's not in game footage of him, but it's a bit more than just appearing on a t-shirt.
And finally, much to the delight of many of you I'm sure, is the fact that there will guaranteed be DLC in the game after it launches. What this downloadable content will include, partially consists of new characters and new stages. Paul Gale Network's Final Four, you know them well: Wander, Old Snake, Cloud Strife, Crash Bandicoot. Will those four make it? We'll see. Then there's the other "highly considered" batch: Chun Li or Ryu from Street Fighter, Ico, Spyro the Dragon, Dart Feld. And finally, the original, two proposed DLC characters: Altaïr, Ezio, or Connor from Assassin's Creed and Kat from Gravity Rush.
Thank you all for your continued passion and support Stay tuned for future updates and here's to a good launch.
Related stories:
10/30/12: Looking back: One year later after revealing PlayStation All-Stars Battle Royale
10/10/12 = Unedited e-mail to SuperBot with final list of characters.
10/05/12 = Vote for how you want PGN to reveal the final characters.
10/01/12 = Edited e-mail to SuperBot with final list of characters.
09/28/12 = The talk to the fans.
09/18/12 = What'd you do in 1987?
09/12/12 = Fan art of PGN (and more) in PSASBR.
09/09/12 = Old hints become new again.
09/04/12 = Whose side is Kevin Butler on?
09/02/12 = PGN's "revealing final content" e-mail to SuperBot.
08/31/12 = First video footage of Nariko and Sir Daniel Fortesque.
08/29/12 = First video footage of Raiden.
08/28/12 = First video footage of Evil Cole McGrath.
08/14/12 = Sackboy, Dante, and Spike confirmations + Free PS Vita version with Cross Buy.
08/14/12 = New "vague" hints on the way.
08/13/12 = PlayStation All-Stars Battle Royale gets delayed to November 20th.
08/11/12 = Original hint for Nathan Drake.
08/11/12 = Don't fear PSASBR's final roster.