What do you think so far of Lord Drakkon!?
Paul Gale Network is a huge fan of the Power Rangers franchise, with fandom dating back to the original 1993 series. As a 9 year old when Mighty Morphin' debuted, I was hooked. The TV show, toys, comics, posters, movies, etc….they were all a great part of my childhood and actually stood the test of time. It's been a Morphenomenal 25 years and I'm proud of what the franchise has accomplished and am excited to be sharing my joy over it, these days, with my two kids: Bryson Paul Gale and Brooke Zelda Gale.
You can imagine that it comes with a lot of joy, for me to see that the original Tommy Oliver, played by Jason David Frank, is reprising his roll of my favorite character…but in a very different way, as a prelude to the upcoming Shattered Grid event that's going on in the current Power Rangers comic book series by Kyle Higgins.
I've been reading this series for the past two years and am stoked to see what happens when issue #25 hits next Wednesday, March 25th. In fact, my local (and favorite) comic book store, Collector's Paradise, will be holding a special signing event with the book's author, Kyle Higgins and an opportunity to own all of the covers from the massive issue. It sure is good that CP has such a nice relationship with BOOM! Studios! PGN has had the pleasure of meeting Kyle a few times over the years and can definitely say that the man is passionate in what he does, so I trust that we're in for a quality read!
It's also been a thrill for me to be in contact with Jason David Frank and create a new logo for him (and his daughter, Jenna Rae Frank) a few years ago.


Jason is one awesome person that is certainly one of the best in the entertainment industry when it comes to keeping up with his fans. Much respect!
Here is to Power Rangers celebrating its 25th anniversary this year and to Issue #25 being a big hit next Wednesday!
To see both Jason's and Jenna's logos, click here.
For more on Collector's Paradise, click here.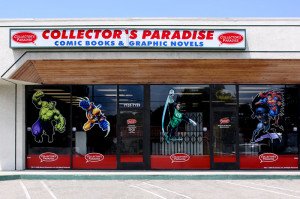 For more on Kyle Higgins, click here.