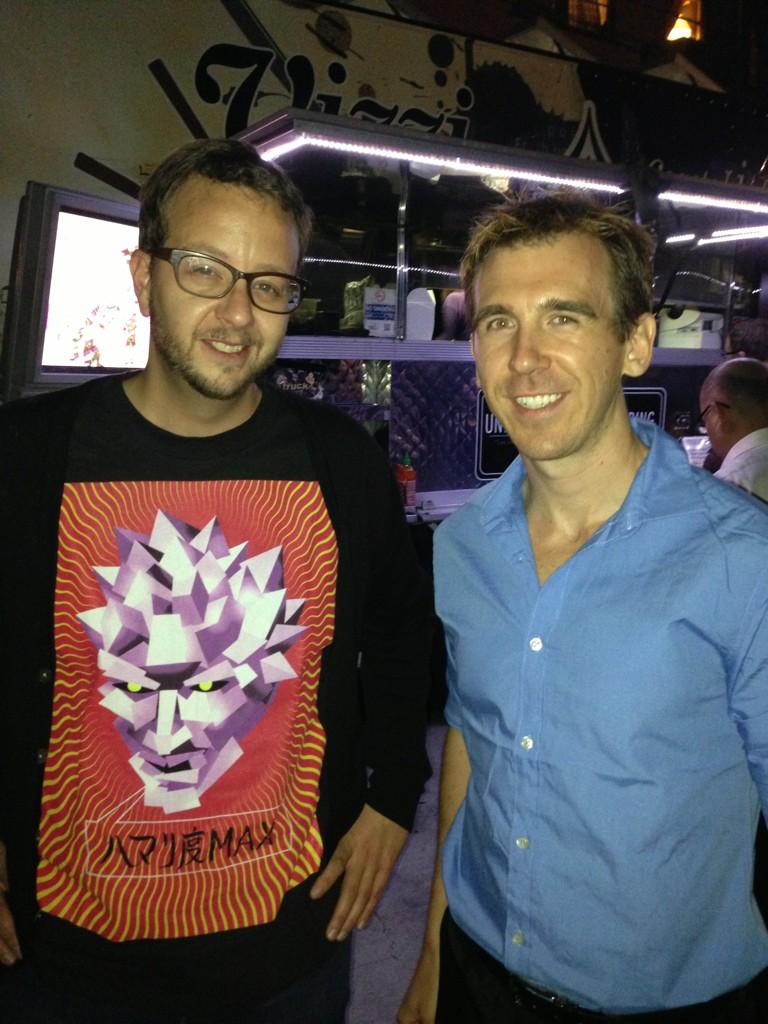 Seth Killian and Paul Gale
The LA Beatdown event that iam8bit hosted for the upcoming release of PlayStation All-Stars Battle Royale was excellent. I had the great opportunity of talking to dozens of the game's fans, the development team, and many of you online that gave me a shout out. The art gallery of props from SuperBot Entertainment's new baby was cool, the music was nonstop, there was a cool photo section (similar to that of the Street Fighter 25th Anniversary one), a food truck, and matches galore.
I tweeted, touted, and updated Paul Gale Network as much as I could throughout the night and rest assured, this article will have a lot more in it, tomorrow, but for now, I don't want to keep you in any further anticipation, so I'll get to what you really want to know: Final 4 Talk.
Without saying who told me what and what were our exact conversations (because these were confidential and there was "other" information I gathered that was not necessarily pertaining to my Final 4 question) about, I can tell you that I spoke with the entire team that night and simply did not get a complete confirmation or denial on my remaining characters.
Their exact words aren't important and if you really want to know just what they said to see if you can decipher them further, I'm sorry, but I won't be sharing those conversations, because everyone there has been really great to me throughout this whole thing and I don't want to tarnish anything we've built together.
Just know this…IF the game doesn't have Cloud, Snake, Crash, and Wander, don't let it bother you. There's always room for their additions and others, in the future. Whether it's DLC, sequels, or something else, it's possible. IF those four are in this game, immediately…somehow as either secret unlockables on the disc itself, as day one free downloadable content, or once again, "something else", great. Don't let either end result detract you from this great game. It's going to be one of Sony's biggest titles ever for PlayStation 3 and if you're a fan in any capacity of the PS brand or fighting games, you should at the very least, check this game out.
I've played the final build and though not in depth enough to write a review, I can say that it's most definitely worth a buy in my opinion. Once again, thanks to all of you at SuperBot for being so cool to me tonight and whenever we've met. I really do appreciate the friendship, understanding, and respect. Know that it's completely mutual.
And to all of you online reading, including those that I met tonight, thanks for your support as well. It's been great chatting on the web and even more-so in person. This article will be updated more, on Thursday. Here's to you, SuperBot!